Welcome to the Kites section of the school website!
It has been fantastic to welcome all our wonderful Year 4 & 5 pupils into Kites for the start of the new academic year!
This term our new whole school topic is 'Treasures Around the World'.
At Baydon we follow a Four Year Rolling Plan throughout the school, which means regardless of which class your child is in they will experience a range of topics. Currently we are in Year Four of this cycle. To have a look at what is upcoming this year please see the plan below.
Year 4 Whole School Curriculum Overview Baydon
Bits of information that are good to know…
Mrs Dixon is the class teacher (Mon-Thur) alongside Miss Dunn (Friday). Miss Liddiard, Mrs Xavier and Mrs Withers work in Kites as the Teaching Assistants.
Curriculum Notes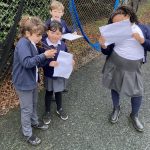 Kites Spring Term 3 and 4 Curriculum Notes
Previous Curriculum Notes
Here you will find previous copies of our curriculum notes.
Kites Autumn Curriculum Notes 2021
Stargazers Topic Kites Information