Welcome to the Robins section of the school website!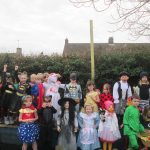 At Baydon we follow a Four Year Rolling Plan throughout the school, which means regardless of which class your child is in they will experience a range of topics. Currently we are in Year Four of this cycle. To have a look at what is upcoming this year please see the plan below.
Year 4 Whole School Curriculum Overview Baydon
Bits of Information that are good to know…

Mrs Chudasama is the class teacher and will be in class with Mrs Taylor and Mrs Pottinger (our Teaching Assistants) on Mondays, Tuesdays, Wednesdays and Thursdays. On  Fridays Mrs Starr will be the class teacher.
We love to do lots of learning outside in Robins so appropriate weather clothing is a must.
Your child will be given a reading book in their book bag, finding time to read with your child on a daily basis is a fabulous way to support academic progress at home, it makes a HUGE difference to your child's progression in so many areas. When you have read please record it in their reading journal and we will ensure your child chooses a new book for home.
Curriculum notes for this term
Robins Curriculum Notes Term 5 & 6
Previous curriculum notes
Here you will find previous curriculum notes as we progress through the year.
Robin Curriculum Notes Term 3 & 4
Autumn Curriculum Notes Robins 2021