Welcome to the Robins section of the school website!
In the first few weeks of term we have been getting to know each other (we have 21 new pupils in Robins) and starting to explore the school value of 'respect'.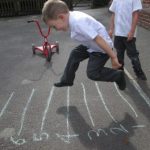 Our main school topic this term is food. We are exploring our topic through a variety of food
based books (The lighthouse Keepers Lunch, The Apple and the Mouse, Oliver's Vegetables to name a few)  and through looking at the season of Autumn including festivals such as Harvest.
To find out more about how Robins class is interpreting the school topic please view our curriculum notes below.
Bits of Information that are good to know…
Mrs Gilbert is the class teacher and will be in class with Mrs Taylor (our Teaching Assistant) on Mondays, Tuesdays, Thursdays and Fridays. On Wednesday – when Mrs Gilbert is doing her Deputy Headteacher role –  Mrs Chambers alongside Mr Smith (Teaching Assistant) will be working with Robins.
PE kits are needed in school for Wednesdays (outdoor PE) and Fridays (indoor PE).
We love to do lots of learning outside in Robins so appropriate weather clothing is a must!