Welcome to the Robins section of the school website!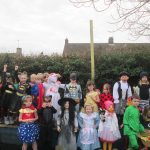 Welcome to the new school year! This term the whole school topic is 'In the Deep Dark Woods'. We will be using this topic not only to find out more about woods as a habitat for creatures but also we will be investigating stories that are based in woods such as the Gruffalo! For more information please see our curriculum notes below.
Robins Curriculum Notes Autumn 2018
Bits of Information that are good to know…

Mrs Gilbert is the class teacher and will be in class with Mrs Taylor (our Teaching Assistant) on Mondays, Tuesdays, Thursdays and Fridays. On Wednesday – when Mrs Gilbert is fulfilling her Deputy Headteacher role –  Mrs Chudasama, alongside Mrs Pottinger (Teaching Assistant), will be working with Robins.
PE kits are needed in school for TUESDAYS  and THURSDAYS this term, though it is great to leave the PE kit in for the whole week in case of emergency!
We love to do lots of learning outside in Robins so appropriate weather clothing is a must.
Your child will be given a reading book in their book bag, finding time to read with your child is a fabulous way to support academic progress at home. When you have read please record it in their reading journal and we will ensure your child chooses a new book for home.