Welcome to the Skylarks section of the school website!
Skylarks is the Year Three/Year Four class.   Our teacher is Miss Rasberry and Mrs Chamberlain is our amazing teaching assistant.
What are we doing this term?
This term the whole school topic is 'Under the Sea'. You can view the Year overview for the school below.
Year 1 Whole School Curriculum Plan 2018-2019
To view our curriculum notes for this term please click on the link below.  We have also included our curriculum  notes from the last two terms.
Skylarks overview Terms 1 and 2
Skylarks terms 3 and 4 overview
Skylarks curriculum notes Under the Sea – terms 5 and 6
Important things to know…
Regular times tables testing will continue this term.
Reading Records and Spelling Books need to come into school on a daily basis.  Homework is sent out on Fridays and it would be helpful if Homework Books could be returned to school on Wednesdays so that I can mark them.
Many thanks
Miss R
Liaison with ARK and Ramsbury Estates
We are delighted to be working alongside Ramsbury Estates growing cowslips for the Duke of Burgundy butterfly project again this year.
Duncan and Helen visited us in February to start the project off.  We sowed the seeds and they sat outside our classroom for a few weeks.  We found out last year that cowslip germination is lengthy and erratic but we transported our not-very-promising-looking seedtrays to Spring Hill on May 1st and planted the contents.
Our visit to the Estates coincided with bluebell flowering and what a sight the woods were! As the coach parked, we caught a glimpse of boxing hares and one or two quieter members of the class spied deer in the woods.  We concluded our morning's excursion with a hazelnut hunt.  Another member of the Estates' team is carrying out a project on dormice and we discovered that by looking closely at hazelnut shells it is possible to determine what type of animal ate the nut!
A very big thank you to Ramsbury Estates for allowing us to continue with this project.  What an opportunity to engage with local conservation work!  One day, in the not too distant future, the children will be able to look up at the mass of cowslips on Spring Hill and say, "We did that!"
Earlier in the term we concluded our work with ARK (Action for the River Kennet).  We visited the River Kennet at Axford and released our baby trout.  We were a little sad to see them go but wished them bon voyage!
Thank you ARK for your support, enthusiasm and for giving us the chance to find out about one of our local animal species.  We loved the freshwater invertebrates workshop, the trout life cycle session, watching the trout grow in our classroom and the thrill of releasing them.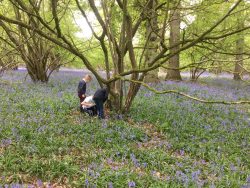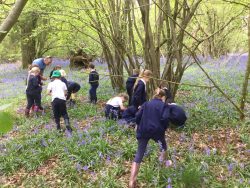 Looking for hazelnuts amongst the bluebells.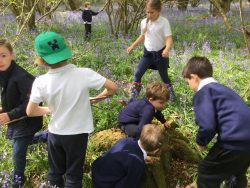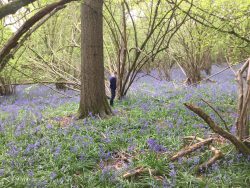 Admiring the view!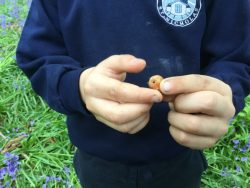 Some white 'bluebells'!                                              Dormice make small, round holes.