Welcome to our class page



S

kylarks is a mixed Y3/Y4 class.
Our Teachers
Our teacher is Miss Rasberry and Mrs Chamberlain is our amazing teaching assistant.
What are we doing this term?
Our topic this term is 'Heroes and Villains'.  We are holding a whole school 'Heroes and Villains' dress-up day on Friday 9th March as a way of celebrating World Book Day.  On Tuesday 13th March, Key Stage 2 are dressing up again but this time as Ancient Greeks!  I have my old curtains at the ready!
Term 4 sees us getting 'stuck in' to Ancient Greece in the classroom.  Each member of the class will be presenting their end of term 3 homework (based on a Greek god).  We will be studying some of the well-known Greek myths and legends and possibly even having a go at writing our own.  We will also be finding out about two Ancient Greeks, Hippocrates and Herophilus, who have contributed to our present day understanding of medicine and health.
Our regular times tables testing will continue this term as will our weekly maths homework based on current work.
Can I just remind all parents that it would be most helpful if Reading Records, Spelling Books and Homework Books could come in to school on a daily basis.
Many thanks
Miss R
Term 4 Skylarks 2017-2018 (planning)
Term 3 Skylarks 2017-2018 (planning)
Term 2 Skylarks 2017-2018 (planning)
Butterfly Conservation Project 2018 – in collaboration with Ramsbury Estates
After a very successful (and enjoyable) day spent with ARK (Action for the River Kennet) and the Ramsbury Estates in the autumn, we have offered to help with the Duke of Burgundy butterfly project.
The Duke of Burgundy is a rare butterfly restricted to chalk downland.  The caterpillars feed on cowslips and so Duncan and Hazel from Ramsbury Estates visited us recently and helped us sow cowslip seeds.  We made our own newspaper pots (no plastic pots here!), filled the pots with compost and, with the help of cotton buds, sowed the tiny seeds.  Our pots were carefully watered and placed inside sealed plastic bags.  The bags have been placed outside and we will watch closely for germination.  Cowslip germination is usually quite poor so we have over 150 pots to monitor.  Fingers crossed, we will take our seedlings to Ramsbury in mid April when we will plant them on a grassy sunlit bank.  We hope our efforts will encourage the spread of this beautiful butterfly.  How exciting to be involved in such an amazing conservation project right on our doorstep!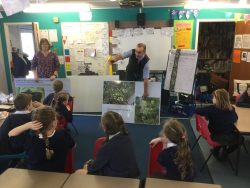 Hazel and Duncan explaining the life cycle of the Duke of Burgundy butterfly.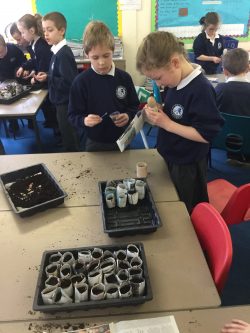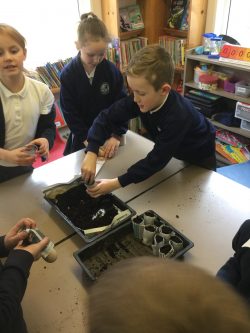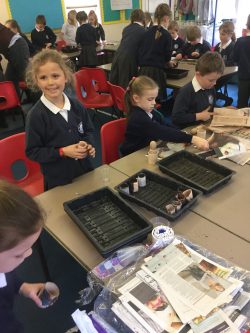 Pots, compost and seeds being prepared.
Look how many pots we have prepared!