Throughout the year we offer a variety of clubs at different times for different age groups. Some clubs are held after school while others take place during term time.
In Term Four the following clubs will be taking place…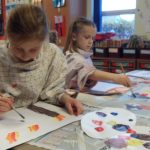 Dance Key Stage Two (for the Dance Festival)
Dance sessions will take place after school for Key Stage Two which will develop physical and creative skills. This club, being ran by Miss Newman, is working towards performing at the Marlborough Dance Festival in March.
Ball Skills Sports Club Key Stage One
Our coaches from Ignite will use the outside area to support pupils in developing a variety of catching and throwing games.
Football
Football will take place on a weekly basis throughout the year and is led by Swindon Town Football Club. This club is open to all ages.
Singing
Mrs Wigglesworth is running a singing club for any age pupil who wants to just come and enjoy singing!