Religious Education and Spiritual, Moral, Social and Cultural Development.
Religious Education
Religious Education at Baydon St Nicholas VA Primary School adheres to the Wiltshire agreed Syllabus for Religious Education.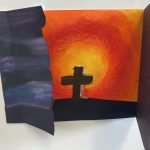 In order to make religious education a lively active subject we employ a variety of teaching methods including art, music, discussion, the development of thinking skills, drama, the use of artefacts, pictures, stories, and the use of periods of stillness and reflection.
Where possible we want our pupils to have opportunities to encounter local faith communities through visits to local places of worship or experiencing visits from members of local faith communities.
Religious Education has an important part to play as part of our broad, balanced and coherent curriculum to which all pupils are entitled. High quality learning experiences in Religious Education are designed and provided by careful planning through the locally agreed syllabus taking into account the need to offer breadth of content.

Baydon St Nicholas Two Year Rolling Plan for Religous Education
Baydon St Nicholas SIAMS Report March 2018
Spiritual, Moral, Social and Cultural Development and Understanding
AREA
EXAMPLES OF WHAT WE DO
IMPACT
SPIRITUAL
Beliefs, religious or otherwise, which inform their perspective on life and
their interest in and respect for different
people's feelings and values

Religious Education lessons. Strong links with the church. Rector/vicar leads worship weekly. Robust PSHCE scheme of work in place, taught throughout the whole school, linked to SEAL and worship themes.
Stimulates an interest in exploring, challenging and developing empathy with the beliefs and experiences of others in a respectful but meaningful way whilst learning to manage their own feelings
Sense of enjoyment and fascination in learning about themselves, others
and the world around them, including the
intangible

Creating opportunities for enquiry based learning. RE lessons from the updated Wiltshire agreed syllabus.
Pupils are confident in exploring all aspects of the world and their lives and thrive on new experiences.
Use of imagination and creativity in their
learning

Opportunities for creative thinking in lessons. The children are encouraged in the majority of lessons to respond in an individual manner.
Pupils take responsibility for their own learning.
Willingness to reflect on their experiences
Pupil voice is important in every classroom. Pupils are encouraged to share opinions and increase skills of evaluation and reflection in most lessons. This is an on-going process
Pupil voice is taken into account and lead on certain issues (for example promotion of anti-bullying week). Pupils are able to reflect on current work and identify next steps for learning.
MORAL
Ability to recognise the difference between right and wrong and their
readiness to apply this understanding in their own lives

PSHCE and RE curriculum. Exploration of themes in worship.
Behaviour throughout school is outstanding. Pupils respect their peers and adults. They are supportive to each other academically and socially.
Understanding of the consequences of their actions
Pupils are clear about expectations of behaviour. Encouragement of independence throughout the school. Outside experts are used to explore life issues (e.g. drugs awareness Life Education Van, fire safety officer for Yrs 2/6)
Pupils take on responsibility in all areas of school life. Outside visitors comment on the sensible pupils from Baydon.
Interest in investigating, and offering reasoned views about, moral and
ethical issues

Use of Espresso Newsbites throughout the school leads to meaningful discussion and ideas on world events. Exploration of these events is encouraged in upper KS2.
PSHCE and RE lessons

Pupils of all ages are enthusiastic about sharing and challenging opinions. They realise their opinions are valued and when sharing opinions can back these up with reasons and evidence.
SOCIAL
Use of a range of social skills in different
contexts, including working and
socialising with pupils from different religious, ethnic and socio-economic backgrounds

Pupil actions during Marlborough cluster and MAEP events. Social skills encouraged through all lessons and time in between teaching sessions.
Pupils represent our school with pride at various events throughout the year.
Willingness to participate in a variety of social settings, cooperating well with others and being able to resolve conflicts effectively
Pupils are supportive in and out of lessons with each other.
Pupils given the confidence to handle situations independently and when to involve adult support.
Interest in, and understanding of, the way communities and societies
function at a variety of levels

RE Lessons, Fair Trade week, global awareness through lessons
Pupils respect and understand the differences between cultures.
CULTURAL
Understanding and appreciation of the wide range of cultural influences that have shaped their own heritage
Understanding of the local area through village walks (Yr3/4). Understanding employment in the surrounding area (Newbury Racecourse Trip Yr5/6)
Pupils have a clearer understanding of the area in which they live
Willingness to participate in, and respond to, for example, artistic, musical, sporting,
mathematical, technological, scientific and cultural opportunities

Pupils involved in sports, art and musical activities within school. Support school out of hours in these areas (clubs, St Johns musical evening) Attendance at St Johns Maths Day
Pupils able to use experiences to affect other areas of curriculum learning within and outside school
Interest in exploring, understanding of, and respect for cultural diversity and the extent to which they understand, accept, respect and celebrate
Links made internationally with other schools (Zambia 2013-2014). Working in close partnership with St Johns Marlborough on a global learning programme.
Pupils accept and celebrate diversity and beginning to understand they are part of a global community
For information on how we promote British values please see the British Values section of our website.