Physical Education, Healthy Eating, PSHE
Physical Education at Baydon St Nicholas.
At Baydon we offer a variety of opportunities in sporting activities, whether in-house or from visiting specialists.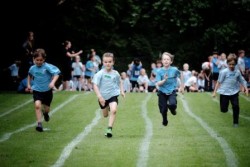 Every child has at least 2 hours of P.E per week with opportunities to take part in an after school club when available.  Each child will experience Apparatus, Dance, Games, Athletics and for some the opportunity to learn to swim. We also offer Football, Netball, Tennis and a different variety of team sports throughout the year.
Throughout the year there are opportunities to take part in festivals with other school which encourages fair play and challenges.  During Term Six we hold our annual Sports Day in which pupils compete for their school houses.
We have a specialist PE Teacher  who visits our school for one day each week and works with all classes. e positively encourage leadership from the older pupils to the younger pupils in sport.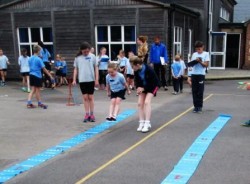 Links are in place with St Johns Academy Marlborough and through this pupils in Year Six have been invited on PE Gifted and Talented course days.
Last year a sports week was held, where pupils were offered opportunities to try different sports such as fencing, the use of a climbing wall and archery, while this year we are planning a whole school outing trying adventurous activities at the PGL Centre.
To see how money from the PE and Support Funding is spent please click here.
Healthy Eating
All pupils throughout the school have cooking sessions throughout the year learning a variety of ways to create meals. Pupils are also actively encouraged to bring in healthy snacks and making balanced choices in their diet.
PSHE
Personal, social, health and economic guidance is given via direct lessons and embedded into every aspect of daily life at Baydon. While PSHE is a non statutory subject we feel it is vital to provide pupils with firm foundations for modern life. Sex and relationship education is taught throughout school through science when appropriate, and specific lessons are provided for pupils in Year Six.
In order to enhance learning, visitors are invited to come and speak to pupils and lead workshops about aspects of PSHE. Visits over the previous year have included the NSPCC (whole school assemblies followed by Year 5 and 6 workshops), The Wiltshire Life Education Bus (which provided sessions for all from leading a healthy lifestyle for younger pupils and substance misuse for older pupils) and support has been provided by the school nurse in the area of sex and relationship education for Year Six pupils.