Mathematics
'Mathematics has beauty and romance. It's not a boring place to be, the mathematical world. It's an extraordinary place; it's worth spending time there'
Marcus
 

du Sautoy

Intent
We believe that it is essential for pupils to develop a sound understanding of Maths, giving them footholds and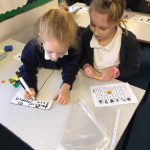 equipping them with the skills of calculation, reasoning and problem solving that they will need in future life. We want to reach further through the teaching of maths and inspire pupils to see the beauty in mathematics, to open their eyes and make links of number and pattern in the world around them and to apply it with enthusiasm and excitement. We want to ignite positivity through understanding, and a willingness to see the future applications of mathematics should a child wish to follow that path.
Mathematics is a tool for everyday life. It is a whole network of concepts and relationships which provide a way of viewing and making sense of the world. It is used to analyse and communicate information and ideas and to tackle a range of practical tasks and real life problems. It also provides the materials and means for creating new imaginative worlds to explore.
Baydon St Nicholas Calculation Policy
Our Aims
We will support our children to:
develop confidence in their mathematical ability and an awareness of the fascination of maths;
become proficient, competent and confident in with a range of mathematical knowledge, concepts and skills;
develop the ability to solve problems, to reason, to think logically and to work systematically and with accuracy;
develop and use imagination, initiative, flexibility and deep mathematical thinking as effective problem solvers;
effectively choose, use and apply mathematics across the curriculum and in real life.
The Curriculum
The maths curriculum for Years 1,2,3,4,5 and 6 is based on objectives from the New Curriculum introduced to schools the previous academic year. The curriculum taught at Baydon St Nicholas encourages a clear focus on problem solving and the skills of using and applying mathematical understanding.
Class Teachers use objectives to plan tailored units of work which incorporate practical "hands on" experiences, games, ICT opportunities, group tasks, investigations and a range of real life contexts which develop both mathematical understanding and problem solving skills.
Children are taught maths in their class group with careful differentiation catering for the needs of all abilities and ages. Teachers will work with a combination of individuals, small groups or the whole class depending on the focus.
Which calculation methods will my child be taught?
Below you will find our calculation policy. The policy lays out the progression of calculation methods for pupils as they progress through school.
Baydon St Nicholas Calculation Policy