Music and Art and Design
Music

As you being to realise that different types of music, everybody's individual music, has it's own rhythm, life, language and heritage, you realise how life changes, and you learn how to be more open and adaptive to what is around us.
Yo-Yo Ma
Intent
Through experiencing music at Baydon pupils can discover that music is practical and creative. We believe that music is a unique way of communicating that can inspire and motivate individuals,  it gives an opportunity for personal expression and plays an important part in the personal development. Music reflects our culture and society, historically and in the present and through the teaching of music we aim for our pupils to to have a greater understanding of the world they live in. 
We strive to promote enthusiasm for and enjoyment of, music in all its forms and also to develop musical skills and knowledge through lessons and performance experiences and opportunities. 
Through experiencing our music curriculum we want pupils to develop life skills such as listening skills, the ability to concentrate, creativity, self-confidence and a sensitivity towards others.
At Baydon St Nicholas we follow the aims of the National Curriculum set for music in KS1, KS2 and guidance given for Foundation stage. When possible music sessions are linked into topic work that is taking place in classes. Pupils have performance opportunities in all year groups every year, especially at Christmas and the end of year summer musical.
Pupils have the opportunity of playing the recorder while at school through occasional recorder groups held at times throughout the year or in music curriculum time. In addition to this pupils who receive instrumental tuition outside of school are offered performance opportunities when available.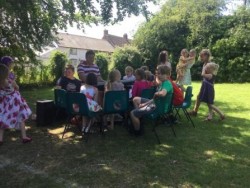 Instrumental Tuition 
We offer the option for pupils to receive instrumental tuition at school. Music tuition is reviewed annually according to need. Currently lessons for keyboard, drums and brass take place in school. These lessons are a paid service.
Drumming
Drumming lessons are taught by Slater Music School.
Brass
Brass lessons are taught by a visiting teacher from Swindon Music Co-operative.
Piano
Piano lessons are taught in school by Mrs Bracey in school.
Art and Design
Every child is an artist. The problem is how to remain an artist once we grow up.
Pablo Picasso
Intent
Through experiencing art and design at Baydon pupils will be encouraged to develop an appreciation of the place of art in the world today, and in the past, and be able express thoughts, feelings and their identity through exploring a range of activities during their primary years. Areas of exploration will provide opportunities to learn, hone and refine skills, to develop resilience when products don't at first match their visions, to inspire. End products the pupils can value and have pride in their creations. Pupils will gain understanding that art can be developed from a range of starting points, from being inspired by others, poetry, music, and the world around them.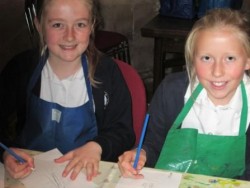 Art is one of the Foundation subjects and is often linked to a cross curricular approach. The main areas taught in Art are painting, drawing, 3D, textiles, collage and printing. Art can be taught as a stand-alone lesson but is often combined with other curriculum areas as to enrich the children's learning experience across the curriculum. Each class will focus on the work of one artist every year.
Art work from all classes is displayed throughout the school. Our displays are of high quality to show we value and are proud of our pupils work. When planning Art in the curriculum we use the National Curriculum objectives.