Music and Art and Design
Music 
At Baydon St Nicholas we follow the aims of the National Curriculum set for music in KS1, KS2 and guidance given for Foundation stage. When possible music sessions are linked into topic work that is taking place in classes. Pupils have performance opportunities in all year groups every year, especially at Christmas and the end of year summer musical.
Extra enrichment activities are added to the curriculum when possible. In the academic year 2015-2016 pupils in Year Six benefited from a music workshop from Bassistry Arts, while the whole school was able to enjoy and appreciate a live performance from a professional musician during Party in the Paddock.
Pupils have the opportunity of playing the recorder while at school through occasional recorder groups held at times throughout the year or in music curriculum time. In addition to this pupils who receive instrumental tuition outside of school are offered performance opportunities when available.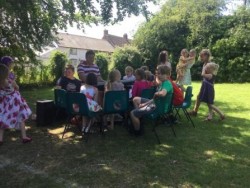 Instrumental Tuition 
We offer the option for pupils to receive instrumental tuition at school. Music tuition is reviewed annually according to need. Currently lessons for keyboard, violin and guitar take place in school. These lessons are a paid service.
Guitar
Guitar lessons are taught by visiting teacher Janet Taylor.
Violin
Violin lessons are taught by visiting teacher Sue Morgans.
Piano
Piano lessons are taught in school by Mrs Bracey in school.
Art and Design 
Art is one of the Foundation subjects and is often linked to a cross curricular approach. The main areas taught in Art are painting, drawing, 3D, textiles, collage and printing. Art can be taught as a stand-alone lesson but is often combined with other curriculum areas as to enrich the children's learning experience across the curriculum. Each class will focus on the work of one artist every year.
Art work from all classes is displayed throughout the school. Our displays are of high quality to show we value and are proud of our pupils work. When planning Art in the curriculum we use the National Curriculum objectives.